Benjamin Franklin once said, "Life's Tragedy is that we get old too soon and wise too late." Good thing the trendy wise owl has us all covered this season! You're sure to be a hoot if seen these days walking the town adorning an owl or two. Seems as though every time we are out shopping or running errands, we stumble upon owls! All stores from Target to furniture to clothing stores have owls popping up all over. For Friday Five it would be wisest to share five recent owl finds, including our own Poe-Poe' owl trends. Who wouldn't enjoy a birds-eye view into the new trend? Whether the owl is imprinted all over a trendy infinity scarf, standing as a lamp in your family room, or shakin' salt and pepper at the breakfast table, owls are sure to bring your admirers eyes even bigger than their own!
Friday Five: Five Owl Trend Finds
1. Owl Salt + Pepper Shakers (West Elm)
2. Christopher Fischer Owl Intarsia Cashmere Sweater (Nordstrom)
3. Owl Bookends (Z Gallerie)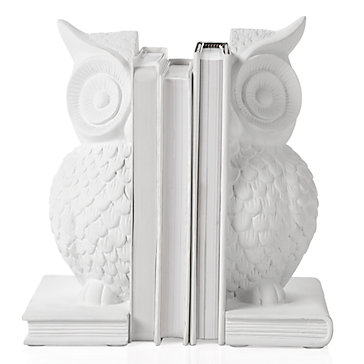 4. Mini Boden "Pretty Patchwork" Toddler Owl Tee (Nordstrom)
5. Owl Graphic Tote Bag (Burberry)
With owls found on so many different products, how can you resist? Here at Poe-Poe' we are obviously obsessed with this new owl trend! We make this clear with our Owl Infinity Scarf, the perfect accessory to make a statement with a hoot. The day might come to an end, but this nocturnal bird will be sure to keep your style timeless!
Poe-Poe's Owl Infinity Scarf